Congratulations to the TELL Kentucky 2017 Winners' Circle Schools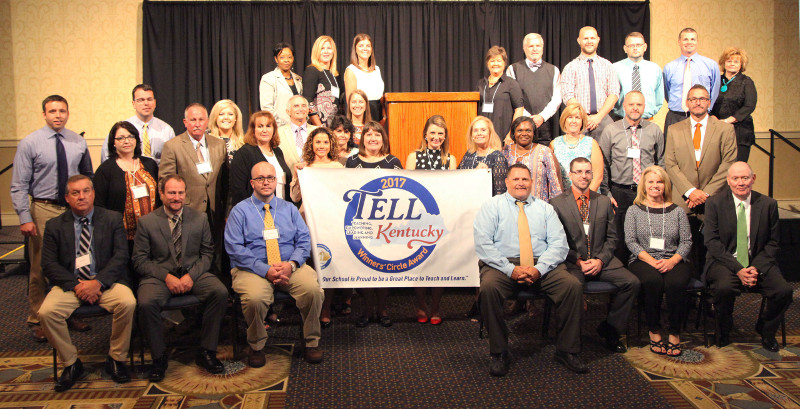 Ten Kentucky public schools have been recognized for outstanding teaching and learning conditions. A winner is selected from each of the 7 Supreme Court regions of the state, with 3 'at large' winners selected. The 10 Winners' Circle schools represent a variety of grade levels and demographics. These Winners' Circle schools were recognized for their effective teaching and school leadership practices and will be shared as models of best practices across the state.
The Winners' Circle schools were selected based upon their 2017 Teaching, Empowering, Leading and Learning (TELL) Kentucky Survey results, school safety and student achievement scores. A team of TELL Kentucky partners made the decision as to the selection of the Winners' Circle honorees, with final determination based on schools in each region with the highest growth in three TELL Kentucky constructs closely correlated with teacher retention and student achievement: school leadership, managing student conduct, and community engagement.
During the Continuous Improvement Summit in Lexington, each school received a certificate and a 4' x 6' banner. Schools recognized as being in the Winner's Circle of teaching and learning conditions are:
Muhlenberg South Middle School, Muhlenberg County, Region 1
Dawson Springs Junior/Senior High School, Dawson Springs, Region 1
Estes Elementary School, Owensboro Independent, Region 2
Colony Elementary School, Laurel County, Region 3
Okolona Elementary School, Jefferson County, Region 4
Strode Station Elementary School, Clark County, Region 5
Ewing Elementary School, Fleming County, Region 6
Carroll County Area Technology Center, Carroll County, Region 6
Black Mountain Elementary School, Harlan County, Region 7
Magoffin County High School, Magoffin County, Region 7
To learn more about these schools, please read the booklet of winners from 2017.
2017 Winners' Circle Honorable Mention Schools
In addition to the 10 Winners' Circle schools, the following schools are acknowledged for high scores in the selection process and are the 2017 Winners' Circle Honorable Mentions schools:
Calhoun Elem., McLean Co.
Adairville School, Logan Co.
Munfordville Elem., Hart Co.
Tamarack Elem., Daviess Co.
GC Burkehead Elem., Hardin Co.
GR Hampton Elem., Knox Co.
Green Co. Middle, Green Co.
West Marion Elem., Marion Co.
Lincoln Elem., Jefferson Co.
Medora Elem., Jefferson Co.
Farmer Elem., Jefferson Co.
Bardstown Primary, Bardstown Indep.
Scott Co. Middle, Scott Co.
Wellington Elem., Fayette Co.
Ersil P Wade Elem., Fleming Co.
Spencer Co. High, Spencer Co.
River Ridge Elem., Kenton Co.
Sandy Hook Elem., Elliott Co.
Allen Elem., Floyd Co.
Greenup County ATC
Russell ATC
Corbin ATC